Galina Burdonskaya was the wife of Vasily Stalin, the son of the most powerful leader of the Soviet in the early 19th century, Joseph Stalin. Vasily Stalin was the second son of Joseph Stalin and his first child with his second wife Nadezhda Alliluyeva. Despite his father's dislike of his manners, the birth status of Vasily Stalin ensured his powerful position in his personal as well as professional life.
But who was Galina Burdonskays the son of the most powerful man in the soviet married? What was her life like before and after marrying Vasily? And what happened to this family after Stalin's death? This article explores the life of Galina Burdonsakaya and her family and through her story, the life of the next generations of Joseph Stalin's family.
The early life of Galina Burdonskaya
Galina Burdonskaya seems to have led a common and private life both before marrying and after divorcing Vasily Stalin. Any knowledge about her early life has remained very private as not much information has been available about it in the public domain, even the names of her birth mother and father are unknown. Though, there are some speculations that her father could have been a political rival of Joseph Stalin. However, this information is most likely just a rumour or pure speculation as there are no valid sources cited for it in any place. Some historical documents have recorded her father as a state official also. The only verified information about her private life before marrying Vasily Stalin is that she was a student at the Moscow State University of Printing arts when she first met her future husband at the age of 19.
The life of Galina Burdonskaya after marrying Vasily Stalin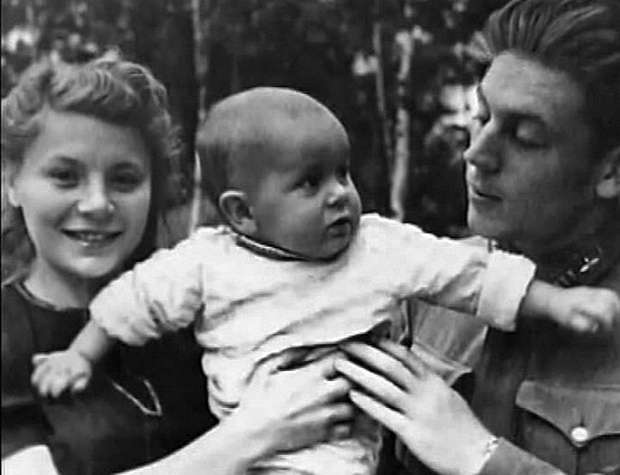 Vasily Stalin first met Galina Burdonskaya in early 1940 when both of them were 19 years old. By this time Vasily had completed his training as an airforce pilot and had joined the Air Force Academy. He was acknowledged as a good flyer by his fellow pilots and trainers. Galina Burdonskaya was regarded as an attractive young lady. The couple got married the same year in December. As Vasily had strained relations with his father Joseph Stalin by this time, his approval was not sought for this marriage and he was informed by telegram after the marriage had taken place. In the reply to this information, Joseph Stalin is said to have sent another telegram that was not welcoming in nature, but rather insulting to Vasily. In this telegram, he reportedly said that he feels sorry for the girl who married his "blockhead" son.
Relations with her husband Vasily Stalin
The marriage of Galina Burdonskaya and Vasily Stalin is not considered to be a happy one. The couple had many conflicts and problems much of which are attributed to Vasily's nature and his drinking problems. It is said that Vasily's womanising nature greatly upset Galina, she was also a victim of physical abuse at the hands of her husband. And it is said that Vasily deprived her of maternal rights as well. During their marriage, Vasily also had an affair with another woman who was also the wife of a film director at that time. Given these reasons, their marriage was short-lived and lasted for less than four years. In 1944, Vasily left his first wife Galina Burdonskaya while she was pregnant with their second child. This time he had started an affair with another woman, Yekaterina Timoshenko, who was the daughter of Marshal Semyon K. Timoshenko, whom he married sometime in 1944.
Galina Burdonskaya's life after divorce
After her divorce from Vasily Stalin, Galina Burdonskaya again led a very private life and no more information is available about her life after parting ways with her husband.
The family of Galina Burdonskaya, the wife of Stalin's second son
Birth Family
There have been no records of Galina Burdonskaya's birth family and parents. Her father is said to be a state official though his name is not known in the public domain. There is no information about her mother or her early childhood life. At the time she met Vasily, she was studying at the Moscow State University of Printing Arts.
Husband
Galina Burdonskaya was married to Vasily Stalin, the second son of Joseph Stalin, the Soviet revolutionary leader who later turned dictator. Vasily was born to Joseph Stalin and his second wife Nadezhda Alliluyeva in 1921. Vasily had a close relationship with his mother Despite her dedication towards building her career. After she committed suicide in 1932 when Vasily was just 12 years old, his relations with his father became estranged as he stopped visiting Vasily and his younger sister. He was left in the care of a nanny and other staff and is said to have spent a lonely childhood where he struck friendships with guards and later picked his drinking habits with them as well.
In his youth, Vasily joined the military school where he studied aviation and later joined the Air Force. During World War II, Vasily Stalin served in the Soviet Air Force and held various high-level positions, despite having little military experience. He was known for his heavy drinking and erratic behaviour, which were strongly disliked by his father. He married Galina in 1940 when they both were 19. However, this marriage was short-lived and full of conflicts and abuse and infidelity on Vasily's part due to which they got divorced in 1944. Later, Vaisly remarried twice, where his second again ended in divorce and the third one ended with his death due to alcoholism.
After his father died in 1953, Vasily Stalin's power declined rapidly, and he was eventually removed from his positions and expelled from the Communist Party in 1962. He died in 1962 at the age of 41, reportedly due to complications from chronic alcoholism.
Children
During her short and unhappy marriage, Galina Burdonskaya had two children with Vasily Stalin. She gave birth to a son in the first year of their marriage in 1941, who was named Aleksandr. Her second child with Vasily was a daughter who was named Nadezhda. However soon their marriage broke and there are no records of their children's lives after their separation.
In-laws
Father-in-law
Galina Burdonskaya's father-in-law was the soviet dictator Joseph Stalin. He was a Soviet politician and revolutionary leader who later turned dictator. He led the Soviet Union after Lenin's death from the mid-1920s until he died in 1953. His legacy is a subject of debate among historians and political scientists. While some view him as a hero who led the Soviet Union to victory against fascism, others condemn him for his human rights abuses. During his time in power, He implemented policies that led to rapid industrialization and collectivization of agriculture but also resulted in the deaths of millions of people due to famine, forced labour, and purges. He was responsible for the execution of numerous political opponents and was known for his ruthless suppression of dissent.
Her husband Vasily Stalin had an estranged relationship with his father who neglected him and his sister after their mother's death and was strongly critical of his ways in adulthood. Stalin was informed about his son's wedding only after it had taken place. Though he did not object to this marriage he is said to have expressed his anger towards his son and sadness for Galina for marrying him.
Mother-in-law
Galina Burdonskaya's mother-in-law was Nadezhda Alliluyeva, who was the second wife of Joseph Stalin. She is said to be a career woman who worked in different offices under Lenin and later Stalin. After having children, her husband, Joseph Stalin, wanted her to quit her job and stay at home to take care of her children. But Alliluyeva was an ambitious woman and wanted to work and contribute to the party, so she hired a nanny to take care of her children. Despite this, Vasily had a close relationship with his mother, but she tragically committed suicide when Vasily was just 12 years old. The reason behind her death is said to be her unhappy marriage and conflicts with Stalin. Her death impacted Vasily greatly and left marks on his adult life as well.
Sister and brother in law
Galina's husband Vasily Stalin had one younger sister Svetlana Alliluyeva and an older half-brother Yakov. All three of Stalin's children did not have a good relationship with him. Yakov was raised by relatives and disliked by his father; he died as a prisoner of war in Germany. Svetlana was doted on by her father but after her mother's death her father stopped seeing her as well and as she grew up, she cut all ties with him.
What does Galina's life tell us?
Galina Burdonskaya's life tells the story of tragedies that underlie the family of Joseph Stalin. The tragedies faced not only by women but men as well. Galina's life speaks of the harsh realities behind those closed doors of powerful names, most of which still remain unknown.


By: Bhumika Katyayan