Nadezhda Alliluyeva, the first lady of the USSR and the second wife of Joseph Stalin, has been one of those historical figures whose life and death have been surrounded by controversy. She first became known to the citizens of the country as "the wife of Stalin" only after her sudden and tragic death in 1932. It was only through her funeral procession passing through Moscow's central street gathering huge crowds that the citizens got to know about the marriage of the leader and the existence of a first lady, to whom they had to bid goodbye.
There are multiple controversies related to the nature and circumstances of her death, and those overshadow Alliluyeva's story. But who was this lady, how did she come to marry one of the most powerful leaders of history, and what was her life like? We uncover these details of her story and trace the life of Nadezhda Alliluyeva from life to death in this article.
Who was Nadezhda Alliluyeva? Uncovering her life and family
Nadezhda Alliluyeva was the second wife of the Russian totalitarian leader Joseph Stalin. She was born on 22nd September 1901 in Boku to Sergei Alliluyev and Olga Fedotenko. She was the youngest of four children. Though born in Boku, she was raised in Saint Petersburg. Her father, Sergei Alliluyev, came from a peasant family. He started working in the rail depot and became familiar with the working conditions in the Soviet empire. Later, he joined the Russian Social Democratic Labour Party in 1898 and became an active member in organising party functions which led to his arrest and exile to Serbia. Upon returning from Serbia he became acquainted with Joseph Stalin.
Due to her father's political endeavours, Nadezhda has great exposure to revolutionary activities throughout her youth. Her family often hid the members of a far-left Russian revolutionary group Bolsheviks including Stalin in their home. They are also said to have hidden Vladimir Lenin in 1917, during the July days. These events and activities influenced Nadezhda Alliluyeva's political views in her formative years and shaped her ideology in her youth.
After marrying Stalin, she continued her political career and also maintained a family life with two children of her own and one son of Stalin from his first wife, with whom she had a friendly relationship.
How did Nadezhda Alliluyeva meet Stalin?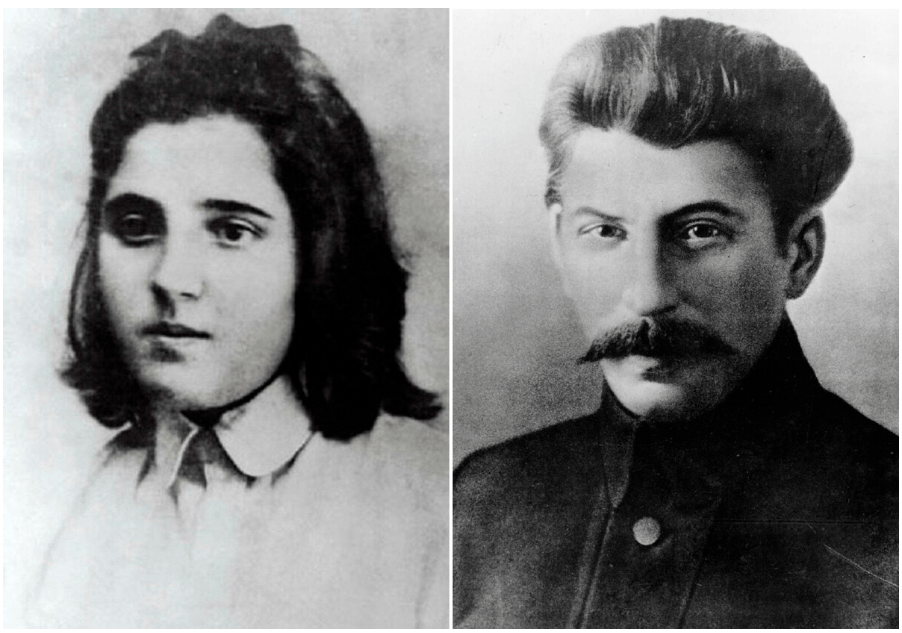 From acquaintance to marriage
Stalin was a friend of Nadezhda's father as both men were members of the same political party. Stalin had known Nadezhda since her childhood. There had been a huge age gap between the two. It has also been reported that he had once saved Nadezhda from drowning in Boku when she was just a child and Stalin was in his 20s. They again met many years later when Nadezhda was in her teen years and became close. At that time, Stalin was a widower and the father of a son. His first wife, Kato Svanidze died from typhus leaving behind their son Yakov. When Stalin married Nadezhda she was just 18 while Stalin himself was 40. The exact date of their marriage is unknown to historians, however, it is speculated that they married sometime in February or March of 1919. It is also reported that there was no ceremony held for marriage as the revolutionary party Bolsheviks, to which Stalin belonged, did not approve of the custom of marriage. Nadezhda and Joseph Stalin had two children, Vasily and Svetlana.
The professional life of Nadezhda Alliluyeva
Even though history remembers Nadezhda Alliluyeva as the wife of Joseph Stalin, she was an ambitious woman who held independent ideas and had strong political opinions that did not always match her husband's. She also had academic aspirations and desired to pursue a regular college degree as well. Here, we take a look at various dimensions of Nadezhda Alliluyeva's professional life.
Political career
During the Russian civil war in 1918, Alliluyeva and Stalin moved to Moscow, where she was made a secretary at the People's Commissariat for Nationalities which was headed by Stalin himself. However, Alliluyeva soon returned from Mascow while Stalin remained closely involved in the civil war. After the end of the civil war as the Soviet Union was established and Lenin took the leading role Alliluyeva also changed her role to be more independent. She transferred positions and joined Lenin's secretariat to avoid her dependence on Stalin. This move annoyed him as he wanted his wife to quit her job and stay at home now. But Alliluyeva continued working for Lenin, his wife and the party where they were more lenient to her. But later in 1921 after the birth of her first child, she was expelled from the party on the grounds of not being able to manage family life and profession. She was later readmitted by the intercession of top officials including Lenin, but her full status was not restored until 1924. Then, in 1924 Stalin ultimately became the leader after Lenin's death and Alliluyeva became the first lady.
Education
Alliluyeva had left school at a young age and was not highly educated, but the desire to educate herself and become more involved with the party's functioning was very strong in her. As she became the first lady in 1924, she slowly became tired of her role and wanted to do something more. To achieve her dreams, she got enrolled in the Industrial Academy in a course on engineering and synthetic fibres, an emerging technology at the time. According to the custom of that time, she registered using her maiden name and kept a low profile during her educational course.
Literary work
During her short but rich life, Nadezhda Alliluyeva also wrote a memoir about her life with Stalin, which was titled "Twenty Letters to a Friend". However, the book was published only after her death. Despite this, her written work is an important piece of history offering a unique perspective on Stalin's regime and the role of women in Soviet politics.
The complex relation between Alliluyeva and Stalin
The marriage of Alliluyeva and Stalin has been surrounded by many speculations and controversies. While the common citizen of Russia did not have any information about their leader's marriage and his wife until her death, the accounts of the close acquaintances of the couple do provide some insider information on the nature of their relationship. According to Alliluyeva's close friend, Polina Zhemchuzhina, the marriage was complex and the relations were strained. It is said that Alliluyeva was unhappy in her marriage and had frequent arguments with her husband. It is also said that Stalin wanted her to quit her job and raise children at home while she wanted to focus on her career and so had hired a nanny for their children. Another source of their unhappy marriage is reported to be Alliluyeva's doubts regarding her husband's faithfulness to her and his lack of attention and care for her. She has also been said to have contemplated leaving Stalin and taking the children with her. She has also been said to have left Stalin once for a short while and was again planning to leave him before her death, however, there is no evidence confirming this claim.
The mysterious death of Nadezhda Alliluyeva
The death of Nadezhda Alliluyeva is the one that is surrounded by the most mystery and conspiracy. She was found dead in her room on 9th November 1932 in the early hours of the morning. She was found on the floor in the pool of her own blood with a small Walther pistol by her side which was recently gifted to her by her brother. The official reason for her death was listed as appendicitis. However, it is widely believed that she had committed suicide and the reason was her strained marriage and Stalin was responsible for her death. It is also believed that she suffered from alcoholism, depression, and possible abuse from Stalin as well, and all this may have contributed to her death. Some extreme theorists also claim that Stalin might have murdered her, however, none of this can be proved through any evidence and her death still remains wrapped in mystery.
How did Nadezhda's death affect the life and politics of Joseph Stalin
The death of Nadezhda Alliluyeva created major controversies and scandals at the time and it affected not just the personal but also the professional life of Joseph Stalin. His children became distant from him once they got to know of their mother's suicide. On the professional front, his reputation was greatly affected by this event. The suicide of Stalin's wife was highly publicized. It sparked discussions about the treatment of women in Stalin's regime and also opened discussions about women's role in soviet politics. But despite dying a tragic death that did not receive closure and continues to be surrounded by mystery, Nadezhda Alliluyeva's legacy lives on. She greatly influenced the people and politics of the soviet at the time of her death and continues to be the subject of multiple books and movies that try to uncover her life.


By: Bhumika Katyayan