The Jenkins family's involvement in heinous murders in Nebraska's history has caused widespread shock and fascination. What exactly is the plot and who is to be blamed?

Erica Jenkins and her family are believed to have assisted Nikko in carrying out brutal crimes.

In 2013, Erica Jenkins and her brother Nikko Jenkins gained fame when they were accused of killing Curtis Bradford. Both siblings have a criminal past, including involvement in homicides related to a robbery. Erica is serving a life sentence in prison. Read on further to know everything that is known about another family member of the Jenkins family "Erica Jenkins".
Key Points

Erica Jenkins was raised in Omaha and was exposed to criminal behavior at a young age, which she eventually embraced.

Her siblings Nikko Jenkins and sisters Melonie and Lolo Sayles have a criminal history.

She is currently serving life in prison at the Nebraska Correctional Center for Women in York.
Bio Summary of Erica Jenkins

Image: Erica Jenkins
Image Source: journalstar.com
| | |
| --- | --- |
| Birth Name | Erica Ashley Jenkins |
| Legal Name | Elluminati Egoddess Enikko Prestige |
| Year of birth | 1990 |
| Age | 32 (as of 2022) |
| Birthplace | Omaha, Nebraska, United States of America |
| Nationality | American |
| Hometown | Omaha, Nebraska, United States of America |
| Criminal status | Convicted murderer |
| Current Residence | United States of America |
| Marital Status | Married |
| Ethnicity | African |
| Brother | Death-row inmate, Nikko Jenkins |
| Erica Jenkins' sentence | Life in Prison |
| Prison (as of 2022) | Nebraska Correctional Center for Women in York |
| Father | David A. Magee |
| Mother | Lori Jenkins |
| Children | A son in child protective custody |
| Sisters | Four |
| Cousin | Christine Bordeaux |
Age Of Erica Jenkins
Erica Jenkins was born in Omaha, Nebraska in the United States in 1990, but the exact date of their birth is not known. In 2022, she is 32 years old.
Family Of Erica Jenkins
The convicted murderer's parents are Lori Jenkins and David Magee, who passed away in 2009. They had six children together, but they were not married.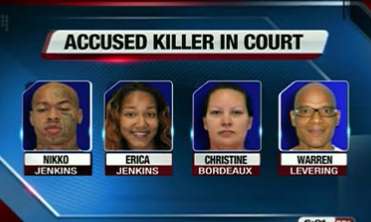 Erica was affected negatively by his father's guilty verdict for various crimes, including making terroristic threats, and his mother's charge of weapon possession in 2013.

The murderer's siblings include death-row inmate Nikko and sisters Melonie and Lolo Sayles. Two other sisters are not in close contact with the family and live in different states.
How Is Christine Bordeaux Related to Erica Jenkins?
Christine Bordeaux is Erica's cousin who testified against Erica Jenkins and her brother Nikko Jenkins in Bradford. The two women shared a prison cell for a short period in September 2016. Christine was serving a 20-year prison sentence for robbery, which was connected to Nikko.
Erica Jenkins Asked for a Name Change to Elluminati Egoddess Erikka Prestige
Erica Jenkins, who is currently serving a life sentence for murder and 20 to 30 years for assaulting another inmate in a prison in York, had requested to legally change her name to Elluminati Egoddess Erikka Prestige.


Image: Erica Jenkins
Image Source: yorknewstimes
She petitioned the court for a hearing in July. She was seen with her defense attorney Christopher Johnson during a hearing in York County District Court.
During a court hearing in July 2021, Erica claimed that her actions of avoiding creditors were not an attempt to evade them, but rather an exercise of her First Amendment rights and freedom of religion.
Judge James Stecker of York County District Court said that the court had jurisdiction in the case because the defendant had been a resident of York County and the state of Nebraska for more than a year.
The judge accepted the defendant's petition, and as a result, the inmate, formerly known as the NCCW inmate, is now legally recognized as Elluminati Egoddess Enikko Prestige.
Erica Jenkins, 32, is currently an inmate at the Nebraska Correctional Center for Women in York where she is serving a life sentence for murder.

In addition to her life sentence, Jenkins is also serving a 20-to-30-year sentence for the assault of fellow inmate Christine Bordeaux, who is her cousin. Bordeaux testified against the Jenkins siblings in the Bradford case. A York County jury found Jenkins guilty of the assault, which caused Bordeaux to suffer a concussion, broken arm, and broken nose.
Erica Jenkins Got Additional 7 Years of Sentence for Attacking Jailers
Erica Jenkins, who is already serving a life sentence plus 100 years for murder, was given an additional seven years in prison for assaulting three Douglas County jailers. Jenkins claimed that she was acting in self-defense and that the Douglas County jailers were continually aggressive toward her. She stated that the Douglas County jail is similar to Alcatraz.


Image: Erica Jenkins
Image Source: 3newsnow.com
Nissa Jones, the prosecutor in the case, disagreed with Jenkins' claim that she was acting in self-defense. Jones emphasized that Jenkins' restricted placements at the Douglas County Jail were due to her own actions, including her conviction for murder and her continued problematic behavior while in jail.

Jones provided details of the incidents leading to Jenkins' three convictions:
In September 2013, Jenkins flipped over a lectern in the jail courtroom and physically assaulted a corrections officer who was escorting her out. She was sentenced to one year in prison for this attack.
In the most severe attack in September 2014, Jenkins tackled and clawed a female correctional officer who was telling her that her recreational time was over. The officer got scratches on various parts of her face and head, and Jenkins also tore out chunks of the officer's hair. Jenkins was given a four-year prison sentence for this attack by Judge Peter Bataillon.
In the final attack, which took place in November, Jenkins swung a broomstick at a correctional officer, hitting her in the head and causing a large bump. The officer was struck in the forearm when she blocked Jenkins' second swing of the broomstick. Jenkins was sentenced to two years in prison for this attack by Judge Bataillon.

Jenkins claimed that she was being portrayed as a heinous person due to her relationship with her brother, Nikko Jenkins, and insisted that she is not a bad person.
In 2015, Family Members' Testimony Helped Convict Erica Jenkins of First-degree Murder
The testimony of three of Erica Jenkins' family members played a role in the jury's decision to convict her of first-degree murder in the August 2013 shooting of Curtis Bradford.

On Wednesday, a Douglas County District Court jury reached a verdict of guilty on charges of first-degree murder, use of a firearm to commit a felony, and possession of a firearm by a prohibited person after approximately four hours of deliberation. Jenkins did not attend the week-long trial.

Erica Jenkins' brother, Nikko Jenkins, was already found guilty of shooting Bradford in the head with a shotgun on August 19, 2013, near the intersection of 18th and Clark Streets.

As the verdict was read, Bradford's mother, Velita Glasgow, broke down in tears in the courtroom. She hugged a family member before turning to hug the police investigators and prosecutors.
Overall Family History of Erica Jenkins
Levi Levering was a respected and influential leader within the Omaha tribe a century ago. Erica Jenkins is the great-great-granddaughter of Levi Levering. Levi Levering was known for his advocacy for the rights of tribal members and successfully lobbied Congress in 1920 to protect their rights to their land. His influence extended throughout the region, from Macy, Nebraska to Washington D.C.



Image: Erica Jenkins' great grand family members involved in criminal activity
Image Source: Omaha World Herald
Nikko Jenkins is accused of committing a series of murders in Omaha, Nebraska over a period of 10 days in August, in which four people were killed.
Several of Jenkins' family members, including two sisters, his mother, a cousin, and an uncle, have also been charged in connection with the killings.
An investigation conducted by the World-Herald newspaper found that 38 individuals descended from Levi Levering have been convicted of 633 crimes in Omaha, at a cost to taxpayers of at least $2.8 million for prison and jail expenses alone, since 1979. This does not include the costs of law enforcement, prosecution, public defense, or juvenile cases related to these crimes.
Over the past several decades, family members have been involved in at least 150 cases that ended in acquittals, mistrials, or dropped charges. "That family is notorious," said William Gallup, a defense lawyer who has represented some members of the Jenkins family.
According to John Wells, the president of the Omaha police union, this family is one of a few that is well-known to law enforcement as habitual offenders. "What sets them apart is a few very high-profile incidents," he said.
Public records and interviews with the family, their acquaintances, law enforcement officials, and academic experts suggest that the Levering family has experienced a decline marked by increasing violent crime, substance abuse, and child neglect. At least 20 children have been removed from Levering family homes by authorities. While many families living in poverty do not turn to criminal behavior, the Levering family is an extreme example.
Final Words
Erica Jenkins was raised in Omaha and was exposed to criminal behaviour at a young age, which she eventually started embracing. She was born into a large family and did not have a positive role model to look up to.

It is hoped that the next generation of Jenkins, who are being raised in child protective custody, will have a different outlook on life!


By: Richa Singh