For over a decade and a half, Carl Azuz, the former host of CNN10, had been synonymous with the show while his signature puns enjoyed the spotlight on all weekdays. However, following the summer break, an enormous number of his fans were dismayed upon seeing a new host, Coy Wire, on the show. Soon after, his viewers and fans flooded Twitter speculating his sudden disappearance. But what really happened to him and where he is now; let us answer all your questions surrounding Carl Azuz from CNN10.
What is CNN10?
CNN10 (formerly known as CNN Student News) is a ten-minute daily news show curated for students of thirteen and above, wherein global issues and current events are put across in an understandable and easy-to-grasp manner. Over the years, the show gained tremendous popularity among the middle and high school students and their teachers, who usually watched it during their history class.
A typical episode of the show begins with one of the key and current global happenings complimented with at-length explanations from the on ground CNN reporters. This is followed by a 10-second trivia question, which is generally related to the next news story. Then comes the '10 out of 10′ segment where the host presents a novel, light-hearted, fascinating, or shocking event from a certain part of the world. Lastly, the host gives a shout out to one of the schools in the country who reach out via comments on the show's YouTube episodes.
More about Carl Azuz
Popular among millions of school-going students for his unbiased news coverage in an enthusiastic and pun fashion, Carl hosted CNN10 for over fifteen years, starting in 2007. He started working as a Video Journalist with CNN in 1999 before switching as a Writer in 2002. He later worked as a Package Producer from 2005 to 2007 before finally becoming the face of CNN10 as its Anchor in September 2007 until August 2022. (Source: Carl Azuz- Linkedin)
According to several sites on the internet, Carl was born in Atlanta, Georgia, U.S. Although his exact date of birth is not known with certainty, the following tweets, dated August 15th 2019 and August 15th 2020, drop some hints about the same!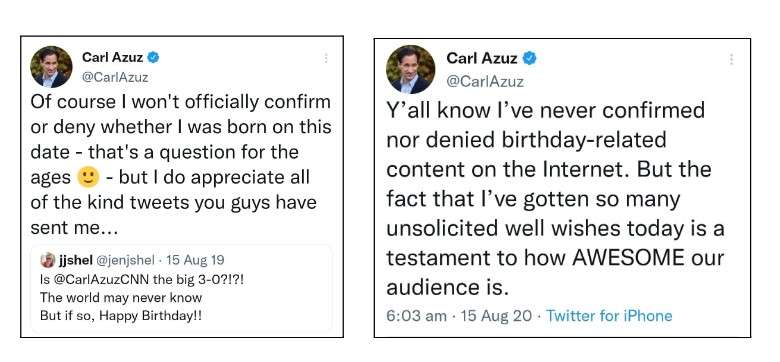 He earned his Bachelor's degree in Telecommunications Arts Production from the University of Georgia. (Source: CNN Anchors & Reporters- Carl Azuz)

Having served a variety of roles at CNN, Azuz covered a wide gamut of issues and happenings, including the war in Iraq, impact of technology on teenagers, the debt limit in the country, the costs of various colleges, and the history of the postal service, along with contributing to the CNN Newsroom. He has also been a highly recognised and sought-after face at numerous public speaking events with the likes of graduation ceremonies, national conventions, workshops, and charity events.
How was Carl Azuz on CNN 10?
Carl relished a large fan base among students and educators for his evenhanded news coverage and witty wordplay at CNN10. His humour was always laced well with a charged-up delivery and appealed to his young audience. One could expect a fairly lengthy tongue twister from him with his remarkable pun that reflected the personality of the show and himself.
News, ideally, should be facts, information and truth. But who said that it could not be adorned with catchphrases or witticisms? Carl did just that to his show, and the impact is evident among his fans, in the way they panicked after his uninformed disappearance, and shared heartfelt messages. Everyday news consumption can become monotonous for school-going kids and a tedious task for their teachers. And so, for hundreds of thousands of students in the country, CNN10 paved an easy path to consume news and comprehend them from a neutral vantage point, with the brilliance and authenticity of Carl at its centre.
Did Carl Azuz get fired from CNN 10?
A definite reason for Carl's sudden departure from the show is not given. However, a statement provided by CNN to The U.S. Sun reveals that he left due to a "personal decision" and was not really fired.

The statement said, "We're incredibly grateful to Carl for the years he dedicated to CNN 10 and CNN as an organization. We know the students, teachers, faculty and loyal viewers of CNN 10 join us in sending him a heartfelt thank you for providing the news – in a fun, entertaining and factual way – to a generation. Carl is leaving the company due to a personal decision, and we wish him the very best in his next chapter and future adventures."
Why did CNN 10 replace Carl Azuz?
Going by the statement provided by CNN to The U.S. Sun, we can say that Azuz was not replaced by CNN10, instead it was his decision to venture out.
Where is Carl Azuz from CNN 10?
As announced by Azuz via a tweet dated October 11th, he is serving as a Teen Fact-Checking Network (TFCN) Ambassador at MediaWise by Poynter. MediaWise is a non-profit project of Poynter Institute that is "teaching millions of Americans how to sort fact from fiction online".

Simultaneously, he has also started reporting for Sonlight, a 'literature-based Christian homeschool curriculum'. Here he has been creating a special series of original weekly reports for the platform's audience, starting from November 19th.
Will Carl Azuz return to CNN 10?
Currently, there seems no sign to conclude that Azuz will return to CNN10, as his Linkedin account mentions the halt of his working years at CNN to October 2022. Until then, his fans can watch him offer media literacy tips as an Ambassador at MediaWise or take some home-scholing lessons at Sonlight's YouTube channel.
Why did Carl Azuz leave CNN 10?
Carl Azuz left CNN10 due to a personal decision. No certain reasons for his departure are known beyond this.
When will Carl Azuz be back on CNN 10?
It has been over three months since Carl started out with new ventures after departing from CNN10. Although he makes it a point to interact with his followers on Twitter who have been missing him tonnes, he has not made any announcements regarding the idea of him coming back to CNN10. Looks like his fans will have to follow his latest work on platforms elsewhere!
Who is the new CNN 10 anchor?
Well, now that we've taken the elephant out of the room, let us go back to the new face of the show- Coy Wire. A former professional football player in the NFL, Wire joined CNN in 2015 as a full-time sports anchor and correspondent. He has hosted various international and domestic travel series, and has several accolades to his name. He also did extensive reporting during the 2015 FIFA Women's World Cup, four Olympics (2016 Rio, 2018 PyeongChang, 2020 Tokyo, and 2022 Beijing) and other coveted matches of significance.
Being an athlete, Wire brings his energy, quick-wittedness and grace to CNN10 quite well! Clearly, the number of viewers who wanted Carl back outnumbered the ones who did not mind Coy hosting after the summer break. That's where the sportsperson spirit of Wire has been coming to picture time and again. He has been consistently making way to the hearts and history classes of his young audience and their teachers. A glimpse of the same can be seen in one of the classrooms. There has also been an instance when students drew Coy on the whiteboard and expressed their liking for him saying, "Coy is life. Coy is love".
Carl Azuz vs. Coy Wire: The Takeaway
Having catered to and shaped the news consumption habits of a generation of young news viewers, Carl Azuz will stay in their memories for an indefinite period ahead, and for all good reasons. Likewise, his followers and viewers can still be seen divided on Twitter.
Coy Wire, on the other hand, is taking on the show and its followers with absolute grace & good spirit. The best thing in sight is that Wire neither tried echoing the style or delivery of Azuz nor did he take away the essence of the show. Probably, this familiarity is making him do an up to the mark job, even beyond the newsroom!
The energy of CNN10 remains fresh in the latest episodes. A dedicated fan base is a thing that differentiates a popular show from a good one, the one that is evident in this case. Carl's fan base was one that garnered huge popularity to the show, owing to his skills and authenticity. However, as long as news is delivered objectively and in an uncomplicated manner, viewers will continue supporting the show and its changing days with love and objectivity.

By: Mahima Rabia